About Saefern's Amenities - The Pool Area & Playground
The Pool Area - A Popular Summer Place
The Saefern swimming pool is popular with all age groups in the community for swimmin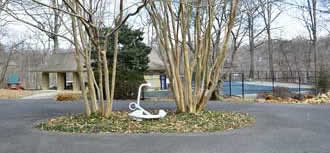 g, sun-bathing and socializing. The main pool is 75-feet by 24-feet, ranging from 3' to 8' in depth. An L-shaped area is provided at the deep end for diving and a separate wading pool is available for young children. Adjacent bath houses provide showers, toilets, and a covered and lighted picnic area. This area has tables and barbeque grills that are also part of the pool complex. A terrace facing Clements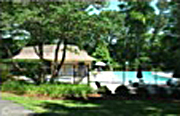 Creek overlooks a well maintained, kid-friendly playground with slide and swings. There is also a basketball backboard, a hop-scotch court and a rack for bicycles. While many folks walk or bike to the pool, ample car parking is provided.
Recent enhancements at the pool area include the addition of a "hybrid" gas grill (propane ignition; charcoal fired) and the installation of solar collectors providing "free" energy for pool requirements and, when not needed for the pool, returns to the power grid.
Pool Management
The pool is managed by a local professional pool management company that is responsible for maintaining the pool in compliance with all governmental regulations and for providing qualified life guards.
Pool Openings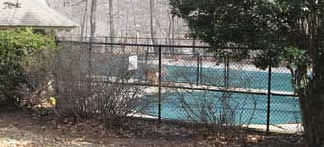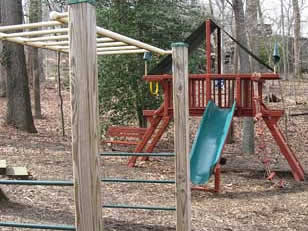 The Saefern pool is open to all SSYC members and their guests from Memorial Day through Labor Day, with an adults-only swim time twice per week in the evenings (Tuesdays and Thursdays). The pool is available for member private after-hours parties by advance arrangement and is also used for parties for the entire community.