About Saefern's Amenities - The Tennis Courts
Tennis anyone?
The Saefern community boasts two brand new professionally constructed and landscaped tennis courts, nestled in a beautiful wooded lakeside setting. MidAtlantic Sports, LLC, which completely rebuilt the courts in 2011, constructed a top-notch paved surface that performs flawlessly. The new courts and landscaping were designed and implemented to include new retaining walls, up-to-date drainage, a storm water basin and plantings. The members-only tennis courts are situated near two community hiking trails and have plenty of parking for guests. The picturesque surroundings are a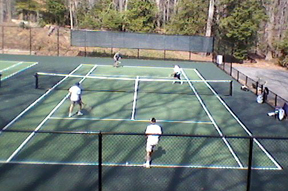 great place to admire the natural beauty and the wildlife in the area between games or after the match. Don't be surprised if you hear a barred owl or the distinct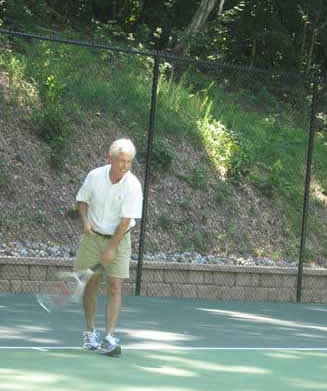 pecking of a pileated woodpecker, or catch a glimpse of a curious fox or passing deer. Our active community has a well-established network of tennis players, both young and old. It is not uncommon to see families, singles, doubles and mixed doubles match play on any day of the week. Even if you don't play tennis, you will want to take a stroll down to the courts to simply admire the masterpiece of which the entire community members can be proud.